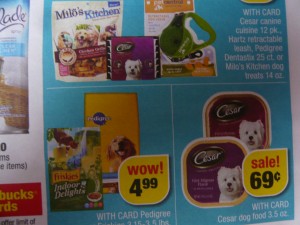 Starting today 3/16 CVS has the Cesar trays on sale for 69 cents again.
We also have a 1/2 Cesar Canine Cuisine Trays, Any Variety – 03-02-14 RP, making them only 19 cents each, wyb 2
We are planning to have the human get a few for Arizona Small Dog Rescue and because we have a 4/20 CVS coupons, we are planning to combine it with this deal, to score some more items from AZSDR's wishlist: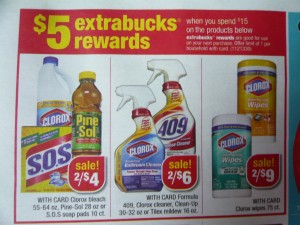 They go through insane amounts of Bleach and Pinesol and are usually super thrilled if we have some to donate.
CVS has both Pinesol and Cloro for $2 each with $5 Extrabucks back wyb $15 worth of cleaning items.
There are printable coupons for the Clorox out:
Right now there are no prints for Pinesol, but the human traded for some hangtags.
Some very lucky folks have found 5/5 Clorox tearpads at Walmart and there are 0.55/1 Pinesol coupons on that same tearpad.
We also  know of 0.50/1 Pinesol hangtags that some of you may have.
Our human was lucky to get both Pinesol and Clorox coupons in a trade and we also have a few Extrabucks to spend.
So we are planning on doing the following:
5 Clorox = $10
3 Pinesol = $6
6 Cesar = 4.14
Total 20.14 plus tax
use 4/20 CVS (received by email)
use 1x 5/5 Clorox (thank you Jackie!)
use 3x .55/1 Pinesol
use 3x 1/2 Cesar (thank you Tabby!)
= 6.49 after coupons +tx
and receive back $ 5 in Extrabucks, so only 1.49 plus tax after all is said and done
We hope to send the human out soon, as long as there is still stock in the stores 😉