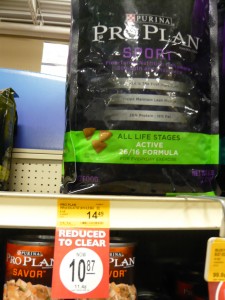 When we sent the human to Petsmart she found lots of markdowns and it seems time is of the essence as the manager told her the entire store will be reset by the end of the week.
So if you are interested in any of these deals, you should head to the store rather sooner than later.
ProPlan dog food 10.87 use 8/1 printable to score it for 2.87 after Q. Most bags at our store had 2 free cans wyb this bag peelies on them, so you can score 2 cans on top of that if your store has the peelies.
Regular cans $1, regular price, markdown cans (small cans) 0.67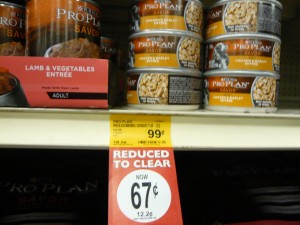 This would be a great scenario:
Buy 2 bags at $10.87 each and 4 cans at $1 each = 25.74
Use 5/25 Petsmart Q
use 2x 8/1 printable and 2x B1 bag G2 cans peelies
TOTAL 74 cents plus tax!
There was also a 5/1 Petco printable, which is not longer available. But if you printed it while we had it, you could stack that with the 5/1 Pro Plan Manufacturer coupon found at Petco for an even sweeter deal!
We'll have some more markdown finds later!