Scenario 1 wet and dry Dog food
Buy 1 bag of ProPlan 11.99 ea
Buy 1 bag of Beneful 7.99 ea
Buy 4 Tubs Beneful wet food at 2.19 each (on sale for 10% off wyb 4) will ring up 1.99 wyb 4
TOTAL $ 27.94 plus tx
use 5/25
and use
$ 5.15/1 printable Pro Plan coupon (request by email)
Petco Store Coupon 5/1 Purina Pro Plan dog or cat  food any size bag though 12/31
1/1 Beneful printable manufacturer coupon or 2/1 Purina Beneful Dog Food, Any – 11-17-13 SS
Petco Store Coupon 5/1 Beneful dog food any size bag though 1/15/14
B2G1 Beneful wet food coupon
Petco Store Coupon FREE Purina Wet dog or cat food up to 1.99 through 12/31/13
Petco Store Coupn 20% off Purina dog or cat food through 12/31/13 (use on one items = one tub)
FINAL PRICE = $1.42 plus tax
Even lower if you have the free tub of Beneful wet food wby dry food peelies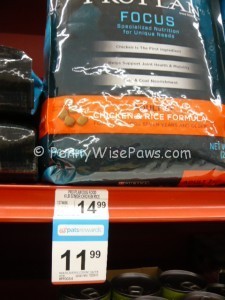 Scenario 2 dry Dog food and treats
Buy 1 bag of ProPlan 11.99 ea
Buy 1 bag of Beneful 7.99 ea
Buy 2 packages of Beggin Strips at 5.29 each (yikes)
TOTAL $ 27.96 plus tx
use 5/25
and use
$ 5.15/1 printable Pro Plan coupon (request by email)
Petco Store Coupon 5/1 Purina Pro Plan dog or cat  food any size bag though 12/31
1/1 Beneful printable manufacturer coupon or 2/1 Purina Beneful Dog Food, Any – 11-17-13 SS
Petco Store Coupon 5/1 Beneful dog food any size bag though 1/15/14
B1G1 Purina Beggin, Any 6 Oz. – 11-24-13 RP – valid up to $3.75 and stack with 3/1 Purina treat coupon or 1/1 Purina Beggin', Any 6 Oz. Or Larger – 09-29-13 SS
Petco Store Coupon 20% off Purina dog treats through 12/31/13 (use on one of the two treats)
FINAL PRICE = 75 cents plus tax

Other Suggestions
– Purina Pro Plan Treats are 4.99 so only 99 cents after stacking Petco Store Coupon 20% off Purina dog treats through 12/31/13 with  3/1 Purina treat coupon (hand over store Q first in this case!)
– Wellness Dry Dog food is 9.99 so only 4.99 if you can find the 5/1 peelies or flyers, you may have gotten a 4/1 Petco coupon to stack
– Both Science Diet and Hill's Ideal Balance Dog Food are starting at 9.99 we have a 3/1 calendar coupon expiring 12/31 that can be stacked with the 5/1 prints we got earlier this year, the grooming post card has a 3/1 coupon for SD, so 1.99 with the right stack!
– Canyon Creek Ranch Dog food 9.99 and some of us have 5/1 coupons or even 9/1 from the Purina sample lady
– Avoderm Dog food is 9.99 and the 5/1 Avoderm printable coupon is still available,so only 4.99 after Q
– Nature's Recipe Dog food is starting at 9.99 and many bags have 4/1 peelies on them, you may have higher value Qs from the coupon fairy aka NR rep.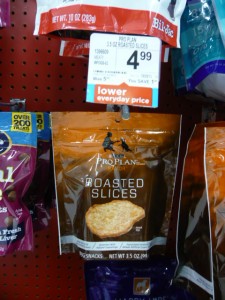 If you can find the Nutrident boxes on markdown for $3 the Petco Store coupon 2/1 Nutri Dent Dog Chews through 3/15/14 is still available making them a smoking deal.
Do check your freebie stash for couons expiring soon and check all 2013 calendar coupons.
Feel free to throw in the cat freebies into any transaction to help you get to $25
FREE can of Friskies or Fancy Feast cat food through 12/15
FREE can of Friskies cat food through 1/15/14
If you are not owned by any cats you are clearly missing out, but at least drop the cat freebies in the donation bin on your way out!