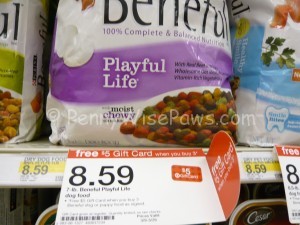 As promised, here's a scenario and some suggestions using the 10/40 pet food targe coupon in today's paper:
Buy 3 Beneful 7 lb bags @ 8.59 each = 25.77
Buy 6 Beneful chopped blends multipacks at 1.66 each = 9.96
Buy 8 Cesar trays at .69 each = 5.52
TOTAL 41.25
USE 10/40 in ad coupon found in todays ad
Use 3x 2/1 Beneful Purina Beneful Brand Dog Food, Any Bag – 02-09-14 RP
Use 3x 2/2 Beneful Purina Beneful chopped blends printables (need two computers to print)
Use 4x 1/2 Cesar Canine Cuisine Trays, Any Variety – 03-02-14 RP
Total after Qs: 15.25 earch $5 Giftcard, so total for all items: 10.25 plus tax
If you cannot print or are looking for some other options, you can also get
Iams cans for 1.20 and use the 2/3 print if you still have it
Beneful tubs are 1.66 each and there's a 2/6 Purina Beneful Wet Dog Food Items, Any – 02-09-14 RP
Pedigree wet food is $1/can and we have B1G1 Pedigree Wet Dog Food, Any – 03-02-14 RP – valid up to $0.99
Pedigree dry food starts at 4.69 and we have Pedigree Dry Food for Dogs, Any 3.5 lb. Or Larger – 03-02-14 RP or 1/1 print
Dog chow varieties start at 4.49 and we have 1/1Purina Dog Chow Brand Dog Food, Active Senior 7, Little Bites, Healthy Morsels Or Puppy Chow, Any 4 lb. Or Larger – 01-26-14 RP
or if your store carries the light and healthy 2/1 Purina Dog Chow Light & Healthy Brand Adult Dog Food, Any 4 lb. Or Larger – 01-26-14 RP
Kibbles and bits 4.64 and we have 1/1 Kibbles 'n Bits Brand Dry Dog Food, Any – 03-09-14 RP stack with 1.50/1 Target coupon for a total of 2.50 off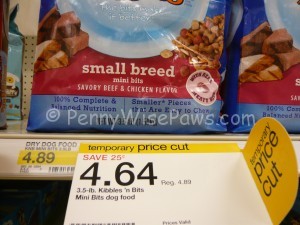 So you have lot's of options, let us know if you find other good scenarios!
Cat deals will be posted soon.