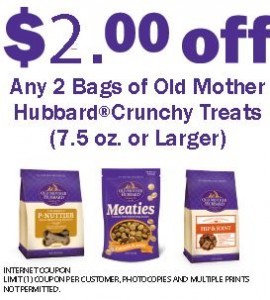 We have some great mother hubbard coupons both for crunchy and for soft treats and one of those does not have a size restriction!
2/2 Bags of Old Mother Hubbard Crunchy Treats 7.5 oz or larger exp 3/17/14
1/1 any Old Mother Hubbard soft and chewy dog treat purchase exp 3/17/14
The human recalls seeing some of the holiday variety pack on markdown at Petsmart last week for around $3, so these coupons would make them on ly $2 if  you can find those!
We also spotted some biscuits on markdown at Petco, but we believe they were the smaller than 7.5 oz bags! We'll have the human check next time she goes to the store.