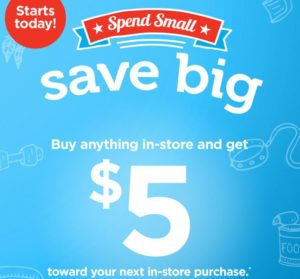 If you were planning on heading to Petco in the coming days, consider taking advantage of this deal.
Starting today, 9/24 through 9/30 they are offering you $5 off toward your next in-store purchase, when you buy ANYTHING.
This means you could buy a small treat from the treat bar, or use a freebie from the Petco Calendar if you still have some coupons.
Reading the find print, you will most likely receive a $5 off $25 coupon ON YOUR RECEIPT that you can redeem 10/1-10/14. These things have sometimes not worked in the past. So if nothing prints on your receipt and if your cashier does not hand you anything else, be sure to ask for it. They usually have those coupons by the registers and some cashiers don't remember handing them out.
We had a similar promotion last year around this time and those $5/25 make good coupons to hit the clearance section, which usually has a lot of good options to choose from this time of the year.
We are not near a Petco right now, but hope to make it to own, before this offer expires. We are going to be in Phoenix late October through the end of the year and are planning to do some pet food shopping for our friends at the rescue organisations!
If ins-tore shopping is not your thing and even a $5/25 offer won't motivate you enough to get into the store, there's always PETCO.com
and we have a $30 off $100 promotion, that ends Tuesday, September 26, 2017 at 11:59pm PDT.  Enter promo code: extra30 in your Shopping Cart. Promotion codes are case and character sensitive. Please enter as shown.
Happy Shopping!