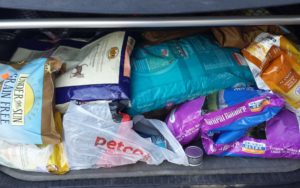 Furriends, have your humans RUN, don't walk to Petco right meow! And tell them to take any and all coupons they may have in their stash!
We were only in town for a couple of days, until female human had to leave Phoenix again, so we sent her to Petco to use up a couple of rewards that were close to expiring. In the store, she realised that there were tons of markdowns.
Big bags of Nutro, Natural Balance, Under the Sun, Doctors Foster & Smith, Science Diet and more, between $2-9 each! Plus marked down cans of Nutro and Pro Plan wet food, among other things. We sent her to another store and there she scored some Wellness wet and dry food, along with big bags of Solid Gold, Pro Plan and Purina One dry food, ranging from $2-8 .
Even without coupons, those prices are steals, considering expiration dates were far out, and most bags were on the larger side (10-16 pds). But we do have calendar coupons, insert coupons and printable coupons for the majority of the brands on markdown, plus some of the bags had either coupons on them (Under the Sun) or you can currently find coupons in the stores, if you are a bit lucky.
We are sorry for the crappy pictures, but with the human going out of town, time was of the essence, so we concentrated on shopping as much as possible, rather than taking pretty pics. Once she is back in town, we'll be able to arrange a nice little donation drop off for our buddies at Meowness and will have better pictures of our booty.
We encourage you to check out your local store to see if any of your preferred brands are on sale and don't forget to pack your coupons!
If your humans cannot head to the store, you can check out PETCO.com for sales, but they won't be as good as the ones in store, fur shure! They currently have a $30 off $100 plus free shipping promo  though 10/19 (use code save30 in case this link won't bring it up), however this will not apply to food or litter, so you may be better of in store after all.
Happy Shopping!