If you are signed up for the PetSmart
 PetPerks program you may want to check your email. We had a coupon for a free bag of cat or dog food (2–6 lb. bags), expiring on 10/2, that we would have almost missed. Unfortunately it is a one time use, personalized link, so we cannot share. The email was dated 9/11 and included the picture above.
Today we also received an email from PetSmart
 about their new in-store promo. Buy a bag of participating brands and get $10 off your next purchase.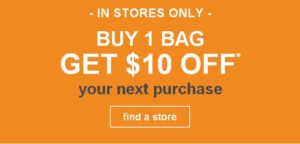 The email says the following brands qualify: select Wellness®, Instinct®, Castor & Pollux PRISTINE™, NUTRO™, Natural Balance, Simply Nourish® or Authority dog or cat food
We are not sure if those promos combine, but we'll have the human check, once we are near a Petsmart again.
If heading to the store is not your thing, here are a couple of online promos, that may be of interest for you:
Buy One 30 lb+ Bag of ProPlan Dog Food, Get One $10 Off at PetSmart.com.
Buy One Get $10 Off all Royal Canin Food Bags, 14 Pounds or Larger! Shop PetSmart.com today.
Happy Shopping!