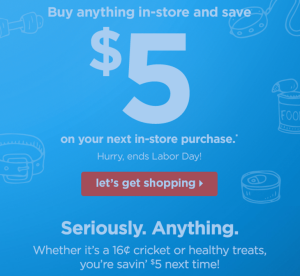 We are currently far away from the next Petco, but still wanted to let everybody know about this deal.
Right now, through 9/5 Petco has a promotion where a $5 off $25 coupon prints on your receipt when you buy ANYTHING.
Their email said you could even buy a 16 cent cricket to get the coupon.
Back in the days when the $5/25 coupons were abundant we could walk out paying pennies for $25 worth of stuff.
It definitely is worth a try if you have some shopping to do.
Here's the details from their website:
Spend, Small Save Big In-Store Event Terms & Conditions
Buy anything in-store and get $5 off your next in-store purchase.
Make an in-store purchase from 8/28-9/5/16 and receive a coupon for $5 off an in-store purchase of $25 or more from 9/6-9/24/16.
Valid once per customer. Coupon and details will be printed on receipt.
Offer only valid in Petco & Unleashed by Petco stores. Not valid at petco.com.