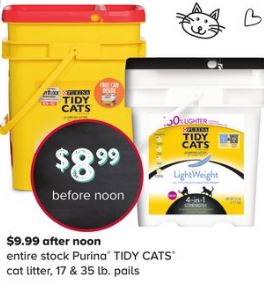 The human really does not like or plan to go shopping on Black Friday. There is only ONE exception to that:
Petsmart usually has a deal on 35lbs on Tidy Cats litter.
This year it is $8.99 if you shop before noon and 9.99 if you shop after noon and that's just a killer deal in itself, but if you have coupons on top of that, it's a deal that can't be beat.
We love getting cat litter for our buddies at Meowness as they go through this stuff faster than our human can chow down a chocolate bar and she's pretty quick when it comes to chocolate.
So although the human would rather be chilling in her PJs working on leftovers on black Friday, we usually purr up enough encouragement for her to lift her behind and move it to Petsmart.
Our current printables and insert coupons expire later this month, so hopefully we'll have some new ones to use by the time Black Friday rolls around.
We know of $2/1 and $3/1 peelies out there and even $5/1 . So if you are lucky to have some of these, hold onto them until black Friday.
We'll remind you of the deal again, once BF gets closer and or when or if we find some printables or insert coupon you can use!!
YAY, we are so excited that Petsmart will have this deal again this year!!
Edit: we originally had this posted at 7.99 as that was the information we received at the time.
We received an email from Petsmart with a preview and found out that the price is 8.99 this year or 9.99 in the afternoon respectively, so we updated our post accordingly.
A bit more than we thought initially, but still a very good deal.