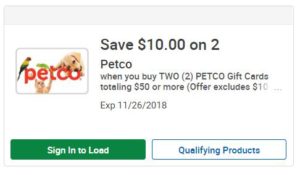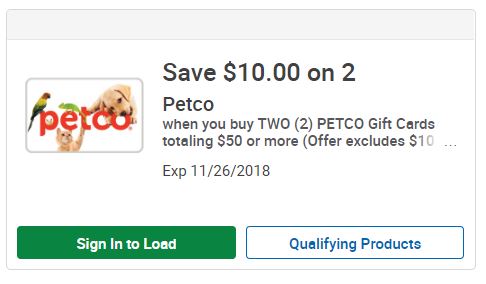 It's this time of the year again: Giftcard deals are starting!!!
This one is right in time for our Black Friday Shopping!
Frys has a an ecoupon, that you can load on your shopper's card, for $10 off 2 (!) Petco Gift Cards totalling $50 or more, head over here to load it to your card. If you cannot find it right away, we recommend, you search by brands, it will come up right away, when you select "Petco".
You need to be sure that you get a total of 2 (!) Petco Giftcards and that the total value of those exceeds $50, for the ecoupon to come off.
It also says "Offer excludes $10 Petco Gift Cards. Offer not valid on online purchases. Product and offer may not be available in all states."
In past years the $10 gift card exclusion was not always there, so you could argue your case with customer service. They now specifically exclude those cards, which is a bummer. But $10 off $50 is still a great offer and we can really stretch this gift card further with $ and % off offers at Petco, which we probably will be seeing in the coming weeks!
Luckily this time we don't have the "$10 off groceries" wording, which means, having the two gift cards while checking out, should be sufficient!
As an added bonus Frys, has 4x fuel points on participating gift cards through 12/11, which gives you 200 fuel points on this $50 gift card, or a totaly of 20 cents off for up to 35 gallons.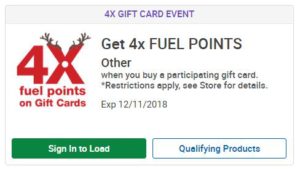 If you can fit that much into your gas tank, that's an additional $7 value, nothing to sneeze at!
Happy Shopping furriends!
We'll be doing more donation shopping this holiday season, so if you want to help us out by using our affiliate links for your own holiday shopping, we'd really appreciate it! You can find ways to support us by clicking here. Thank you!