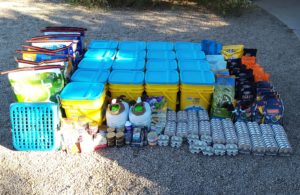 We hope, all our furriends had a wonderful and relaxed Thanksgiving!
This is our Black Friday Donation to Meowness. We have sent the human shopping all week, including Black Friday.
Petco and Petsmart are really the only places she accepts to go on Black Friday, normally she really really really would rather stay at home and cuddle with us.
We can't blame her, we are total pros at snuggling! But when the Meowness kitties need help, we'll have to send her shopping, you gotta have your priorities straight!
The items pictured retail for about $749 and our out of pocket expenses were $156.
Thankfully a lot of furriends helped us out with coupons right in time for Black Friday!!! Thank you very very much, you know who you are!!
We were able to get 627 lbs of litter, 219 lbs of dry food, 444 oz of wet food and 27 oz of treats.
Not bad for a week worth of shopping, or what do you think?
If you want to help Meowness too, you can do so while shopping from your couch in your jammies, by making them your designated charity on AMAZON smile which won't cost you a penny. Or if you are going to buy a bunch of groceries for the holidays, you can head over to your Frys  shopper's card account and add Meowness as your charity of choice and Frys will donate a small percentage of anything you buy to the rescue. Easy peasy!!
Of course, you can always head over to their website and send them some good old cash via paypal, we are sure that is highly appreciated as well!
We hope to get at least one more donation together in December, before we leave town again in January!
We'll keep you posted on the progress!!