Today we sent the human to Meowness to drop off our last food and supplies donation for the year.
We had to take two pictures, as the human had to store the first part of our shopping haul and then went shopping for more. We live in our RV now full time, so we don't have a lot of storage here, especially not for heavy buckets of cat litter.
We were only in town for a few days to spend time with friends over the Thanksgiving holiday. Considering we had very little time to send the human shopping, we think, we did quite alright!
The items pictured are valued at $668 and we only paid $148 oop.
We were especially glad about the 14 buckets of Tidy Cat's litter we scored on Black Friday. Pawesome!!
This year we had to push the human even more than usual, as the Petsmart pricing changed at noon and the afternoon prices were higher. The human HATES going out on BF and is really not a morning person either, but we just cannot resist a good litter deal and insisted she'd go! We sure had to purr up a ton of encouragement!
In the afternoon we called in the troops for reinforcement and thank cat Cali and Ludwig sent their human over with extra coupons and moral support, so off the humans went to Petco to check out the deals over there!
We also received a bag of food and some fluffy towels (not pictured) from Coco, Toby and Mojos humans.
We are fortunate to have such good kittie and doggie buddies who like to support formerly homeless cats and kittens.
If you'd like to help out Meowness as well, they are currently holding a fundraiser to pay for the cost of spay and neuter surgeries for the many many kittens they have taken in lately. Any donation, no matter how small will be highly appreciated! Click on this link, if you can spare a few dollars!
The first person with a $50 donation even gets to name this cutie (he's a boy).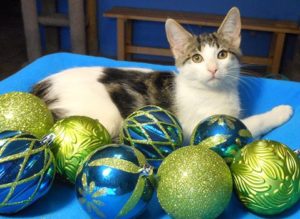 He's still waiting to find out his name! But seriously even if you cannot spare $50, please don't feel intimidated to make a small donation. Anything helps those little guys!
Also, did you know you can support your favorite charity whilst shopping at Frys with NO EXTRA cost to you.
If you have not signed up for this program, please consider doing so. It's an easy way to help out Meowness at no additional cost to you.
Here's how you do that:

Go to Frysfood.com and log into your account. Click on "Community" and select "Community Rewards".
Then click on the enroll now button further down on that page.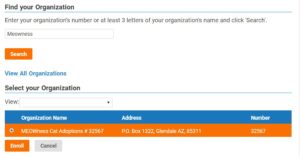 A search field will come up, where you can search for a charity by key words. Put in key words (Meowness, hint, hint!), click on "Search".
Then Select a charity from the search results and click on "enroll".
Done! Easy peasy, takes 5 seconds and that's it! And it won't cost you a penny.
We hope you all had a great Thanksgiving weekend! We'll be out and about again in a couple of days!