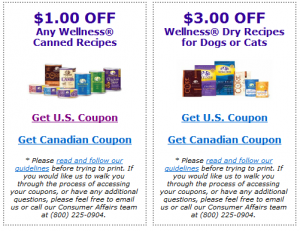 We had expected these a few days ago and when we did not receive our newsletter we were a bit worried that they might have done away with them.
But they came today, YAY! As every month we could print a 1/1 Wellness canned food (good on any size dog or cat food) and a 3/1 Wellness dry good on any variety (including Core etc.) cat or dog food from the newsletter.
We love our Wellness wet food and make sure the human uses those coupons every month!
They print with an expiration date of 9/9 if you print today. If you print them later, the date is further out, however it has happened to us on occasion that the coupon was not available anymore further out!
Unfortunately the 1.20 deal at Petsmart is over, the small cans are 1.49 now, so 49 cents after Q. They are 1.43 at Petco through 8/24 so 43 cents after Q. The pouches are 1.20 at Petsmart now, but the coupon is for cans and cannot be used on the pouches unfortunately.
If you do not receive the Wellness Newsletter, you can subsribe here. Sometimes they even offer higher value coupons to first time registrants.