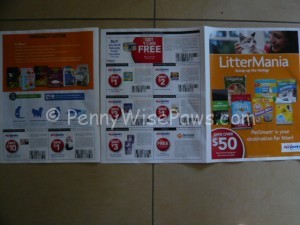 While checking some prices for us at Petsmart the human came across this booklet.
There's a total of eight Manufacturer coupons and one coupon for a Free cat exam at Banfield hospital.
Right now we don't see anything too hot of a deal with these, but you never know!
Here's a list of the coupons:
Buy any Blue naturally fresh cat litter 14lb bag get 1 can Blue cat food free
1/1 Fresh Step Triple Action Litter
2/1 Scoop Away Litter
3/1 Everclean litter
1/1 Swheat Scoop 14 lb bag
3/1 any Litter Genie Plus Pails
10/1 Any Nature's Miracle Automatic Litter Box
1/1 Any Nature's Miracle Litter or Litter Pan
We have prices for all of these items, but nothing stands out at this point.
Do let us know if there's any price you would like to know!