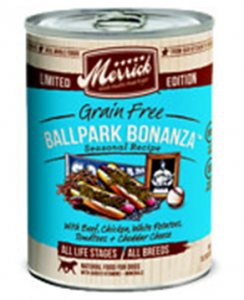 If you are headed to Petco today you might want to check prices on the Merrick we dog food cans. Some folks have been finding the following varietes:
Ballpark Bananza
Hawaiian Luau
Merrickan Pie
Venison Holiday Stew
at 20 cents a can on markdown. Some were not marked but still did ring up at that price. It's definitely worth a shot to check, as this is a good quality food!
The coupon we posted a little while back is for cat food, so won't work on those, but hey 20 cents a can is a stellar price!!!
It seems they don't ring up that way at every store, but have been found at those prices in different areas of the country!! Let us know if you were lucky to find them!!
We wish we could send out the human to check today!
Thank you Myndkrime and Saphira2021!