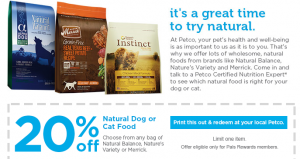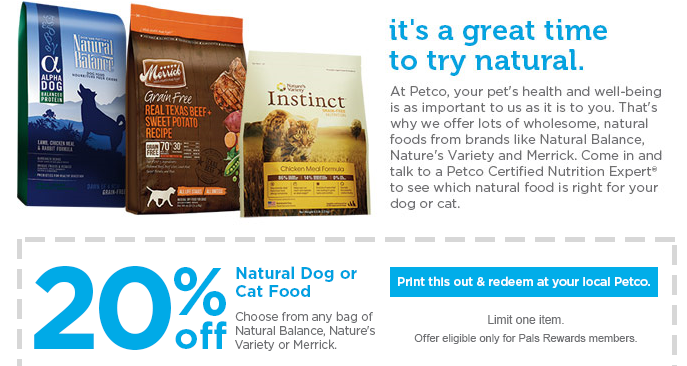 If you you registered your email with PetPals, check your email account, actually have your human do it right MEOW! You may have received a 20% off coupon for Natural Dog or Cat food at Petco, valid for Nature's Variety, Natural Balance or Merrick brands.
This one only has a very short window of usage, it expires 8/25, so better check quickly. It's a personalised email, most likely sent to subscribers who have in the past purchased those items.
It's not a secret, that our human prefers grain free food and all these are higher quality brands that she has purchased in the past. So if you are using those brands make sure to check your email.
There are some good manufacturer coupons to stack for some of these brands:
4/1 printable for any Nature's Variety Instinct or Prarie exp 8/31
sign up for 3/1 Nature's Variety coupon per email
1.50/1 printable Nature's Variety raw boost minis exp 8/31
4/1 printable for any size bag Merrick purrect Bistro exp 1/31/2014!!
0.50/1  printable for any size can Merrick purrect Bistro exp 1/31/2014!!
you may also find a store flyer with 4/1 coupons for Merrick (watch out for a flyer explaining the new packaging an formula for Merrick Purrfect Bistro)
3/1 printable coupon for 5lbs or larger dry food or any case wet food Natural Balance exp 9/30
0.50/1 one plateful cats pouch or perfect bites cat treats exp 9/30
you may also find 3/1 and 5/1 peelies on select Natural Balance bags (we have seen them on the "fat cats" and "fat dogs" varieties)
We are super excited about these coupons and we bet our friends Cali and Persephone are as well!!!