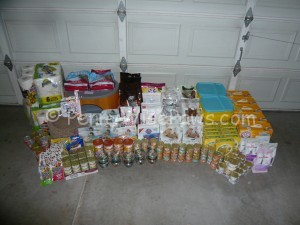 Last night we sent the human to our buddies at Meowness with the items in the picture!
They are bursting the seams with kittens, so any extra food and litter comes in handy for sure.
The human got to meet their latest addition, RUDY, along with Sir Pouncealot and his siblings and three newcomers, that don't even have names yet!
The retail value of this donation was roughly $586 and our oop was around $112 and yes, some dog food is  included for their outreach project.
We even had a small kitty condo and some leashes/harnesses from their wish list in there, as the human had some palsrewards to use at Petco.
On the way home the human stopped at several Safeway stores to buy more litter AND to get Rainchecks so we can get some for future donations.
We really wanted to get the pet food out of the garage. We won't be able to keep much of a buffer stock over the summer.
It's going to be over 100 F soon and we don't want it to to spoil. At the rate our buddies at Meowness are devouring it, there's no risk for it to go to waste there!!
If you'd like to help the Meowness kittens as well, you can donate a few dollars under their regular donation link! This is a volunteer only based organisation and thanks to the very dedicated volunteers every penny benefits directly the kitties in their care! We are sure all the kittens will appreciate it!