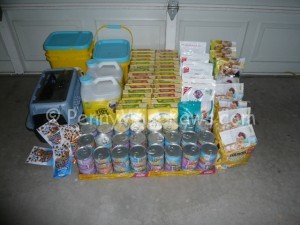 Last night we sent the human to our buddies at Meowness! We usually drop off donations earlier in the month, but as the human was out of town we were running a bit late.
This drop off is valued at $ 365 and we paid about $ 92 oop (a bit more than usual because of the carrier)
Although Meowness fosters mainly cats, they also help out a few dogs, which is why you can spot a little dog food in there too.
We are planning a second drop off, mainly for dog supplies, this weekend as well.
The human came home with lots of cat hair on her, the Meowness kitties gave her some nice purrs and cuddles.
We had to sniff her real well so see if there were any hidden messages!