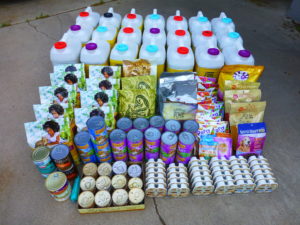 Whilst in town for an unplanned visit, we figured, we might as well send the human shopping while we are here.
We only had a couple of days so we were limited to what was on sale this week, which was NOT MUCH. It seems we just had missed a killer deal at Target, but we tried to make the best of what deals we could find during the short time in town.
Luckily we received a few coupons from some of our furriends on very short notice (thank you!!) and thus could send the human to the stores to snag a few things.
Considering that deals were not as good as we'd usually like and the limited time did not allow for a whole lot of shopping, we still did ok. The items pictured retail at $405 and we spent $88 roughly. Safeway had litter on the $5 Friday deal unadvertised but thank cat the human checked the store and saw it. Safeway also still have their "spend $25 or more on pet supplies receive a $5 catalina off your next order" promotion going. So we lucked out to receive and roll a couple of those $5 catalinas.
Not pictured are quite a few items that Cali and Ludwig's Human, Conny, purchased, which we picked up on our way to Meowness. Cali and Ludwig have gotten real good at deal hunting and keep sending their human shopping. Thank you for your continuous support to Meowness guys and for keeping Conny busy!!
As always Meowness is bursting at the seams with adorable adoptable cats and kitten season has not even started yet!!
The human got to meet a few of the cuties looking for new homes during her visit.
Grace and Faith pictured belwo are a bonded pair of beautiful Maine Coon kitties. They would love to find a furever home together.
So if you are looking for a new kittie buddie or two or three, please check out the MEOWNESS website. If you cannot adopt right now, maybe you can spare a few dollars to help out the cats at MEOWNESS, just follow the link and click on the donate button. Thank you very much, if you do!