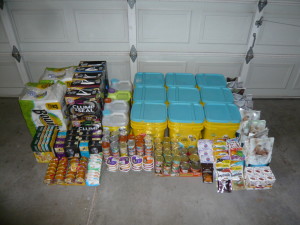 Oh meow! Where has the time gone?! It's June already and it feels like we have not sent the human to Meowness in ages!!
Luckily we managed to get some supplies to Meowness today. The items pictured roughly have a retail value of $533 and we paid about $ 145 for them.
We have had to slow down our shopping efforts lately, while we and the human are dealing with some other things (no worries, nothing too serious).
We are still chasing deals and such, but currently we just don't blog about them so much anymore.
We hope to get back in the swing of things again soon, as the Meowness kitties really can use any help they can get!
Right now Meowness has 32 kittens alone in addition to the adult cats that are in their care. Some of them, like Heathcliff the handsome pictured below are already up for adoption,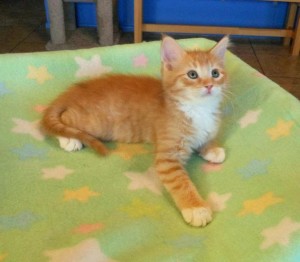 others still have to get spayed or neutered and need other kinds of medical attention, which means lot's of $$$ are needed to get these little guys and gals ready for adoption.
If you can spare a few dollars, you can donate to Meowness here, we know they appreciate it and every little bit helps!
The human got to snuggle with Calvin, Lucy, Lionel, Oliver and many others. So if you are looking for a purring cuddle buddy,
Meowness definitely is the place to go! You can find their adoptable pets here!