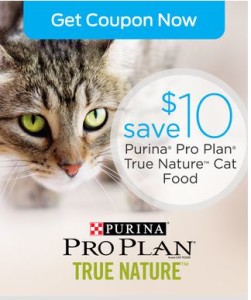 Purina has recently launched new pet products, as have many other companies. It's amazing how many new brands have popped up recently.
New launches, usually mean high value coupons, which with a bit of luck can be combined with a good sale sooner or later.
We can score a 10/1 Pro Plan Perform Litter coupon and a 10/1 True Nature cat food coupon in the current Purr Magazine!*
Petsmart currently has the litter on sale for 9.99, so we  can score 2 pails for FREE with the  10/1 Pro Plan Perform Litter coupon !!
The True Nature food is 13.99 at Petco and 14.99 at Petsmart.
Some of us have received in our emails a 20% off at Petco and/or $10/30 for Petsmart. We lucked out and received both.
So we'll send our human shopping this weekend for sure!
=^.^=
*the litter coupon took a bit of fiddling around to get to print, just a word of warning, so do keep trying or poke around in the magazine for other links