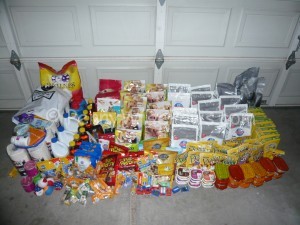 Today we are sending the human to AZSDR with this donation, valued at $ 636 retail. Our oop was roughly $109!
The human even managed to take a picture, yay!
Lot's and lot's of treats this time, December and November were good shopping months for treats.
A little cat food snuck in for the few kitties they care for.
The white bag on top of the paper towels is from our visit to the holiday pet festival, we forgot those goodies when we dropped off our December 2013 donation!