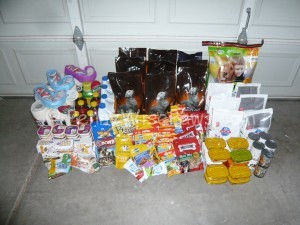 Today we sent the human to AZSDR with this donation valued at $ 464 retail. Our oop was only roughly $89
Lots of treats in this donation and Tennis balls too!!
For the record we want to point out that the Pro Plan in this picture was NOT purchased with the FREE coupon we had earlier this month.
We had several high value coupons in the last few months of 2013, that stacked very well with store coupons, both printable and from the calendar.
We bought lots of Pro Plan at that time, that we will be dropping off over the next couple months.
The few bags we got with the free coupon will probably not be showing up in donations until Summer.
We usually store a bit over a couple of months worth of donations, because the human travels a lot and we want to be sure to have something to drop off every month, even in those months when we have little time to send her shopping.
We also like to drop off a variety of items (supplies, wet and dry food, treats, toys etc.), so we usually mix it up from what ever is being buffered from recent purchases 😉
We hope the doggies at AZSDR enjoy these items!!