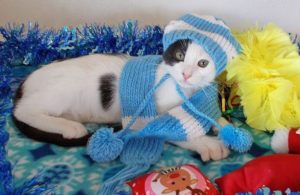 Today is Giving Tuesday and you'll be seeing requests for donations all over social media. #GivingTuesday
Meowness, our favourite pet rescue, is not signed up with Giving Tuesday, but they are also holding a fundraiser and you can donate to them directly without going through any third party site, by clicking here.
We like helping organisations directly, especially the ones where we know the money ends up right where it needs to go.
So if you have a few extra $$ to spare this Tuesday, please consider throwing a few at Meowness.
The money will help get cuties like Rudolph (pictured above), his siblings and a whole bunch of other kittens get spayed and neutered, so they can be ready for their furever homes.
Meowness does so much for kitties in the valley, with very very limited resources. So literally any donation, no matter how small, will make a big difference!!
Thanks for helping the kitties!!