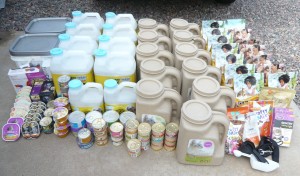 Today we sent the human to Meowness. We wanted to make sure we drop off one more donation before we head out of town for a while!
Meowness is currently bursting at the seams. It is kitten season and on top of that adoptions are slow in July and August.
The items in the picture are valued roughly $340 and we paid about $83 out of pocket after coupons. We also received a kind contribution of some litter and canned food from Cali and Ludwig's human. Thank you Conny!!
The human got to meet Clive and Chauncey and a bunch of other kitties who are waiting for their furever homes!

Chauncey

Clive
As usual, she was covered in cat hair when she came back home.
Meowness also took in several nursing mums with teeny tiny kittens over the last few days. They were in dire situations and we are so happy, that they are safe with Meowness now. But once these tiny guys are big enough to be spayed and neutered that is going to be a HUGE expense all at once.
So please please please, if you can spare a few $$$ to help out Meowness and those tiny kittens, that would be terrific! You can donate here!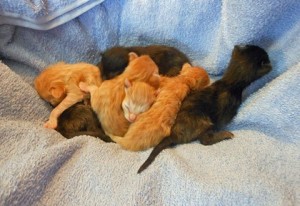 These are just Abby's seven fluffballs, there are so many more kittens who could really use our help!
As we mentioned we are headed out of town to do some travelling with our humans, so we won't be able to send the human shopping for a while. We sure hope we'll find ways to support Meowness whilst on the road.
Hopefully we can purr up enough encouragement for the human to share some of our road trip adventures!