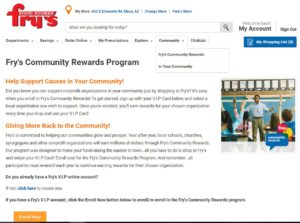 Did you know that Fry's has a Community Rewards program? They will donate a small percentage of your purchases at Fry's to a charity of your choice! Participation is free and there is no additional cost.
Our human has been using this program for a long time, but it never occurred to us that a lot of Fry's shoppers are not even aware it exists.
I know a lot of our friends shop at Fry's so if you have not designated another charity yet, please consider helping out our furriends at Meowness.
Sign up is super easy,  her is how:
Just log into your account at frysfood.com
Click on Community.
A drop down menu will open. Select Fry's Community Rewards and scroll down further on the next page until you see the enroll button.
Click on "enroll" and then search for the organisation you want to support.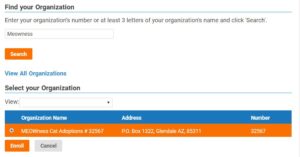 Select your charity of choice and click enroll again.
That's it!
It would be great if you could help out Meowness, but if you want to support an other organisation, we totally understand.
Easy peasy and a great way to help your favorite shelter with no additional cost to you!
The only downside is that you have to re-enroll once a year, so make sure you check back once in a while. In any case it's interesting to go back and check, because Fry's keeps track of how much they donated based on your purchases in the previous quarter. So it's fun to see those numbers, while making sure you are still enrolled!
If you have not been using this program yet you need to get on it right meow!
Thanks for helping the shelters furriends!