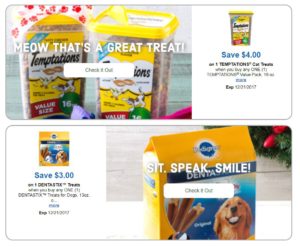 If you are a Frys shopper, make sure to check your 25 Merry Days Deals today.
Today and today only, we can load ecoupons for $4/1 Temptations cat treats and $3/1 Dentastix Dog treats to our shoppers cards.
These may make for cheap treats in the future.
You have until 12/21 to redeem this coupon. Don't forget to use your Amex Blue Cash preferred credit card for an extra 6% cash back on these. In case you don't have an Amex Blue Cash Preferred, we highly recommend you sign up for one, here is our referral link, in case you are interested!
Happy Shopping!