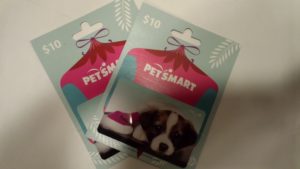 Earlier this month we mentioned those Petco and Petsmart giftcard deals at Frys.
You had to load the eQs on a particular day of the 25 Merry Days promotion and if you did you can redeem them through 12/31.
We were not sure if the special $10 giftcards from the "stocking stuffer" display qualify. (Regular GC's for Petco start at $15 and the Petsmart ones start at $25), but we were curious.
The way the eQs are worded is that you get $10 off your grocery purchase wyb the GCs!
So we had the human do the following:
Take 3 Petco cards to self check out, ring them up and hit total.
Nothing came off
Added a bit over $10 in groceries
Again nothing came off
She then alerted the self check out attendant and showed them the eQ on her phone.
After a short phone call with a manager the SCO attendant took of the $10 discount manually.
We had the human try the same steps with the Petsmart $10 cards, with same results at a different store.
So YMMV.
If you are planning on using the eQ's hassle free we suggest you get the higher value cards.
One of our friends got the PM giftcards and reported the $10 came off for EACH giftcard. So she effectively got off $20, but she also had a bunch in groceries in her order that were worth more than $20..
She went yesterday, so this is obviously a glitch of some sort and we cannot promise that you will get more than the $10 off if you go later.
In any case go prepared to show your eQ on the phone in case nothing is deducted.
Happy Shopping and Happy Pawlidays!