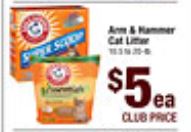 In case you missed yesterdays post, here's your reminder!!
Safeway has Arm & Hammer cat litter on their $5 Friday deals again. Available, today ONLY at that price!
We do have a printable 1.50/1 coupon here, that makes it only 3.50 each.
Some people have reported that the NEW Clump and Seal variety is included at their store.
It is still not available at ours, but if your store carries it, you can score it for only $2, using the 3/1 Clump and Seal printable coupon, which is a great deal on cat litter!
Also watch out in store for peelies on those new boxes, many of them have $3 peelies on them, so you can use your prints to buy those boxes and save the peelies for the next $5 Friday deal!
Don't forget to check your J4U account to see if you have scored a $5/20 offer!
If your store carries the black boxes of Clump and Seal and you have a $5 offer, you can score 4 boxes for $3 plus tax!! That's 75 cents a box, can't get any cheaper for kittie litter!!
But even if you cannot find the black boxes. 3.50 after the 1.50/1 coupon for the regular litter is still a mighty good deal.