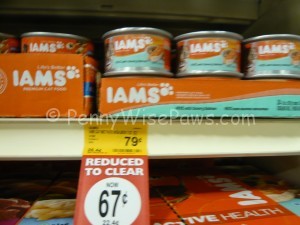 We have some awesome new printables on coupons.com
When checking out Petsmart for ideas to best use our 5/25 printable coupon the human found lots of IAMS products on markdown. Most notably the small cans of cat food are 67 cents each, so 2.01 for three, which makes them 1 cent for the three if you use the 2/3 Iams wet cat food coupon! Ok that's not free, but almost free 😉
Even if your store does not have these on markdown, you can get them for 79 cents each so 37 cents for 3, still a good deal and this will help you get to your $25 threshold!
We also spotted the dry food on markdown in our store, see pictures below. The IAMS dog cans are still at $1 each, which will make the 33 cents after coupon wyb 3! Iams tubs are 1.70.
So if you are headed to Petsmart to use your 5/25 printable coupons, you may want to print and take those coupons just in case.