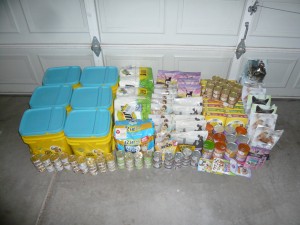 As we type, the human is on her way to the Meowness kitties with the items in this picture! Yes, it is the second one going to Meowness this month!
We mentioned before that March is our "gotcha month", so we thought, it would be appropriate that they get to celebrate with us, after all we owe them a lot!!
Plus they have lot's of new tiny kittens who need A LOT of food, so they can grow big and strong. Really at the rate these guys are going, this donation is just a drop in the bucket!
The pictured supplies retail roughly for $ 578 and we only paid $154 out of pocket!!
We really lucked out on the litter: 6 Tidy Cats 35lb buckets and a smaller bag of Fresh Step.
Yep, you got it, little kittens, who eat a lot, also….oh well, you get the drift 😉
In case you are considering to welcome a cat into your family, please check out our buddies Olivia, Reginald, Vivian and Howard!! Plus there are more kittens, who just arrived and will be up for adoption soon!!