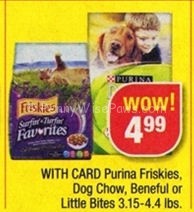 Starting the week of 8/11/2013 CVS will have Dog Chow 4.4 lbs for 4.99, we also have a 2/1 Purina Puppy Chow, Dog Chow, Active Senior 7+, Healthy Morsels or Little Bites, any 4 lbs or larger – 07-28-13 RP, that makes them just 2.99 after Q.
This is a good deal, especially if you have EB's to spend or if we get a $/$$ of CVS coupon later in the week.
That same insert has a 3/1 Purina Dog Chow Light & Healthy also, BUT to our knowledge CVS does not carry this variety. Do check your CVS to be sure though, because you could score this at 1.99 if you can find it!
Same insert has a 1/2 Friskies, but that's not a stellar deal, unless you have a ton of EB's to burn.
This deal won't start til 8/11 so if you need extra coupons, you'll have enough time to order or trade.