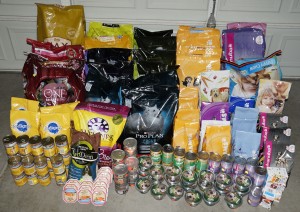 Last night we sent the human to AZSDR for the second time this month.
We realised that some of those HUGE bags we got on markdown over the last couple of weeks expire at the end of June/in early July, so we wanted to get those to the doggies ASAP, especially as there are rumors of the human going out of town for that work thing again. We know the AZSDR will go through them fast!
At over 600 lbs.,  weight wise this was probably our biggest drop off ever. The car was packed!
We are especially thrilled to have some Avoderm, Nutro Nature's Recipe and Wellness in there, in addition to the Pro Plan, Eukanuba, Iams, Beneful, Dog Chow and Pedigree.
The markdown value of the items pictured was roughly $305 (we estimate regular non-markdown retail about $970, YIKES) and we paid about $53 OOP all in all! Pretty good, huh?
The human spent A LOT of time at Petco over the last couple of weeks, she was practically living there, but the awesome folks at our favourite store, always encourage her to shop for the deals, as they too love to help homeless pets!!
We hope the cat food clearance that's going to happen in a month, will be as pawesome!
If you are looking for a new furever friend, AZSDR has lot's of cute doggies that are waiting for a wonderful home! Please check them out!