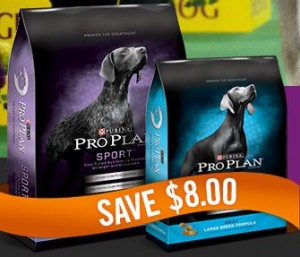 If you printed the 8/1 Pro Plan coupon right when it came out a little while ago, chances are they expire this weekend.
We had a bunch expiring today and tomorrow, so we had the human use them today. After all it took a lot of time to trade for them!
The 11.99 price was only valid through today and as today was the last day of the current ad, prices will most likely go up again tomorrow at Petco.
You may still find some on markdown at Petsmart for 10.87
We used to have a 5/1 Purina Pro Plan dry Dog food  any one bag Petco Store coupon exp exp 4/15/14, that is no longer available, but if you printed while we had it and still have your prints, you will still score this food for free or close to free at either store even if the prices go up.
This is the result of our shopping trip today. We had some Petco store coupons left and also used some free Pro Plan cat food manufacturer coupons that the human traded for.
There are currently not may printable store coupons out, but we hope to see some new ones next week with the ad change!
Don't forget to pick up some free Beneful while you are at it by stacking the 2/1 Beneful Purina Beneful Brand Dog Food, Any Bag – 02-09-14 RP Manufacturer coupon with the 5/1 calendar coupon!