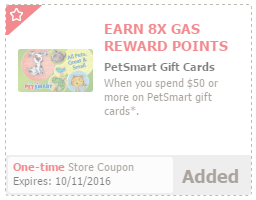 We send the human shopping at various pet stores all the time. So when we find promotions for gift cards at those stores we usually get very excited.
If you are into collecting gas points to save at the pump, this one might be for you.
Through 10/11 Safeway has 8x gas reward points for Petsmart Gift Cards $50 or more.
You'll have to check your J4U account to see if you have the eQ to load, but most of these offers are available to all J4U members.
As we have been spending a lot more on gas lately, we are always happy to sniff out gas reward deals for the humans. Even better when we can combine them with pet deals.