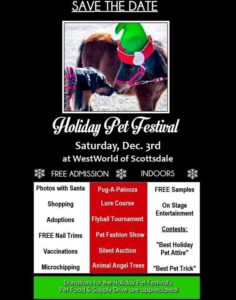 The Holiday Pet Festival is happening again this Saturday December 3rd for the 7th time at West World in Scottsdale!
We always used to send our human there, many times together with Cali and Ludwig's human.
It's a fun event to visit with the rescues, contribute to their fundraisers and collect samples and coupons to donate from the vendors.
Unfortunately this year we will be out of town already so we can't send the human over.
But make sure you mark your calendars.
You can find more information here!