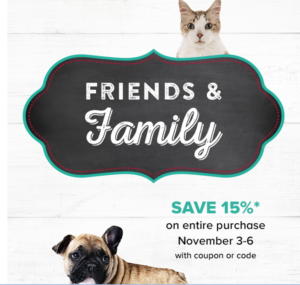 Today 11/6 is the last day to receive 15% off at Petsmart during the November F&F event!
So if you have been meaning to take advantage of this offer you better head over to Petsmart right meow!
Click here for a printable coupon or use coupon code NOV16FF when shopping online.
Petsmart is also running a Bonus Bucks Promo right now through 2/1/2017.

When you spend $35 on qualifying items, you'll receive a $5 off your next purchase printout coupon on your receipt.
If you are planning to take advantage of that promo, please bear in mind that the 15% usually counts against you for the $35 threshold,
so your total has to be $35 AFTER the 15% discount is applied!
Happy Shopping!