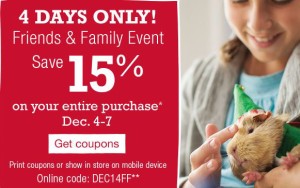 Petsmart has another one of their Friends and Family Events today through Sunday 7th December.
Head over here to print your coupon.
You may also have received personalised coupons in your email. So if you want to save paper, they will accept the coupon on a mobile device as well.
If you want to stack with manufacturer coupons, don't forget that Petsmart registers are set to take off the 15% after other coupons are applied.
Also, if you are doing the holiday bucks deals, where you have to hit a $35 threshold, we recommend to account for the 15% counting against you, which is often the case at Petsmart.
Happy Shopping!!