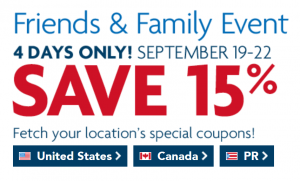 In case you missed this, when we first posted:
We have a Friends & Family Event coming up for four days starting Sept 19 through 22!
Go here for your downloadable coupons!!
Please note that registers at Petsmart are set in a way that percentage off coupons come off at the very end after coupons, no matter when in the transaction you hand them over.
So even if you hand over your coupon at the very beginning, your discount will be counted for the amount after coupons.
Here's an example: You have a a $10 bag of food and a $5/1 coupon for it. You hand over your F&F 15% coupon, the 15% will come off as $1.50, making the item 8.50. You then hand over your 5/1 coupon, the register will calculate the total from the after coupon amount, which is $5, so you will end up getting ony a 75 cents discount, making the item $4.25, independent if you hand over your 15% in the beginning or the end of the transaction.
These coupons are mostly valuable when you are bying a bigger item, they will have less impact when you are good at getting your out of pocket cost down. But hey, every little bit helps, right?