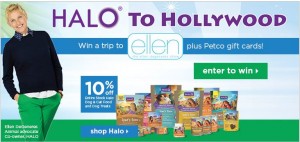 Halo and Petco are currently running a sweepstakes, where you can win a trip to Hollywood including tickets to the Ellen DeGeneres show, Petco giftcards and other prizes!!!
The Sweepstakes ends on March 15, 2014 at 11:59:59 p.m. Pacific Time
You can enter daily!
Each week they will have a drawing for 5 Petco giftcards.
You can submit your entry for week six until 15th March!
Week Six: Five (5) winners will be drawn from all eligible entries received from March 9, 2014 at 12:00:00 am Pacific Time to March 15, 2014 at 11:59:59 pm Pacific Time. The Week Six winners will be notified on or about March 21, 2014.
There is a limit of one prize per winner, so if you won one of the giftcards you don't have a shot at the grand prize, but hey we could stretch a $ 200 giftcard real well!!
More details on Terms and Conditions can be found here!
Good luck to all!