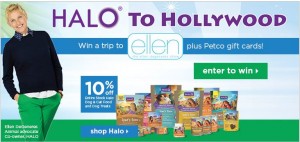 Halo and Petco are currently running a sweepstakes, where you can win a trip to Hollywood including tickets to the Ellen DeGeneres show, Petco giftcards and other prizes!!!
If you have not tried it yet so far, TODAY March 15th is definitely your LAST SHOT at it!! The Sweepstakes ends on March 15, 2014 at 11:59:59 p.m. Pacific Time
Each week they will have a drawing for 5 Petco giftcards, this is week six!
Week Six: Five (5) winners will be drawn from all eligible entries received from March 9, 2014 at 12:00:00 am Pacific Time to March 15, 2014 at 11:59:59 pm Pacific Time. The Week Six winners will be notified on or about March 21, 2014.
There is a limit of one prize per winner, so if you won one of the giftcards you don't have a shot at the grand prize, but hey we could stretch a $ 200 giftcard real well!!
More details on Terms and Conditions can be found here!
Good luck to all!