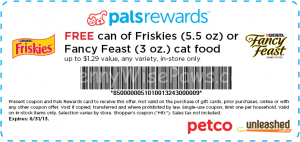 Dont forget this freebie: FREE can of Friskies of Fancy Feast
when you are heading to Petco this weekend!
We posted this on our Facebook page a few weeks ago,
but things get buried quickly there!
Between this and the Free can of Wellness, you will
already have 2$ in freebies towards your 25$ total that you need
in order to use the 5 off 25!
And if you are a dog person, so what, get those freebies and drop them
in the donation bin, human!! Do it for us please and thank you!!