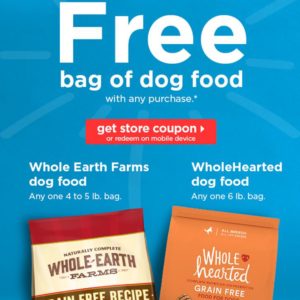 If you have not made it to Petco yet to claim your  FREE bag of Whole Earth Farms dog food (4-5 lb) or WholeHearted dog food (6lb) with any purchase, today is your last chance to do so.  Even if you can't use it yourself, please consider donating to a shelter. Petco often has donation bins right at the entrance.
ANY purchase means you could buy a small can of wet food for cheap, or use a freebie from the calendar and get a free bag of dog food.
Some smart people even just get a few treats from the open treat bar for pennies, which also qualifies as a purchase, in case you were not planning on buying anything.
The limit is one per household. They'll allow you to just show the coupon on your smart phone or print it out, whichever you prefer.
Here's the link to pull up or print. Just make sure you redeem your bag of food by the end of business today!
We are far away from the next Petco, but if you were headed that way anyways, this is a nice little extra.
If online shopping is more your thing here's an online deal for you to check out: Save Up to 40% on Comfy Beds for Your Dog or Cat at PETCO.com!
Happy shopping!