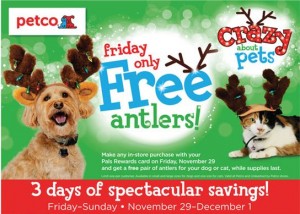 Petco has  had their Black Friday ad out for a while on their site now.
The ad does not really state any prices, but a lot of items are 50% off, such as dog beds, cat scratchers and litter boxes for example.
So we may send the human to see if this will be a good option to spend our Palsrewards, that we have been saving!
They also have Acquatic supplies, reptile supplies, dog toys, pet beds and a bunch of other items 50% off
Our favourite store manager has been hinting that there may be surprises in store the day of BF, but we are not sure if we will be sending the human out on Friday,
as the deals will go through December 1st! And we are not too keen on her bringing home those antlers, as we all know who will get to wear those in the end….!!
You can find your ad here! (You may have to change your zipcode though)
While at it, don't forget to grab your FREE Purina Dog or Cat food and FREE Friskies OR Fancy Feast or FREE Friskies!