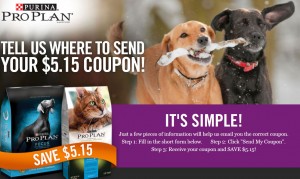 YAY, right in time for our deal weekend, we got a $ 5.15/1 printable Pro Plan coupon!!
Pro Plan cat food starts at 9.99 at Petco and Dog food at 11.99 through 12/24.
Go here to request your 5.15/1 Manufacturer Coupon from ProPlan!
and stack with Petco Store Coupon 5/1 Purina Pro Plan dog or cat  food any size bag though 12/31
It only takes a couples of minutes, we received our coupon per email already!!
If you are getting cat food, make sure to hand over your MQ FIRST!!! The store Q should adjust down.
Thank you Susan!!!