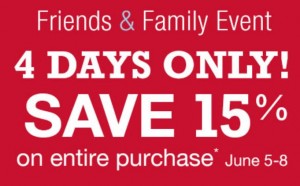 Today June 8th is the last day for the Petsmart Friends & Family event! If you were planning to get 15% off your pet supplies, better head over to the store today!
Head over here to print your coupon!
Usually the 15% are applied after all other coupons have been applied  no matter at what time in the process you hand over the 15% off coupon.
These are good for more expensive items, that you want to get a better deal on. If you are doing a good job, keeping your oop low, usually the F&F coupons don't make a huge impact!
While shopping don't forget to pick up your free Ideal Balance dog food! If you are planning on getting the IB cat food, the 15% will come off of the 2.99 after the other coupons are applied, bringing it down to 2.54 plus tax!
Or just print your 5/1 store coupon to use on any other of the participating brands, such as Blue Buffalo, Castor & Pollux ORGANIX or Ultramix, Hill's Ideal Balance and Hill's Science Diet, Innova, Nature's Recipe, Nutro Natural Choice, Nutro Max, Nutro Ultra, Simply Nourish, Wellness, Authority, Bil-Jac, Farmer's Bounty, Eukanuba, Pet Botanics, Pro Plan, Royal Canin!