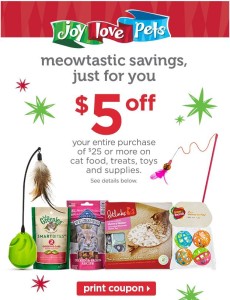 Cali and Ludwig's human let us know that she has received an email from Petco a few days ago with a $5 off 25 coupon.
The coupon was personalised to her Pals card, so not everybody may have received it.
We had our human check and sure enough, we did receive the same email on 12/3 also personalised to our Pals account.
How did she miss that????
In any case this coupon is good through 12/12 and the only thing it excludes is Wellness, which is a bummer for us.
Still we'll hopefully be able to pick up a few goodies for the Meowness kitties.
It's been like forever since we received a $5/25 from Petco, so if you do have it, make sure to take advantage of it right meow!!!
Thank you Cali and Ludwig for alerting our human, so she would double check!