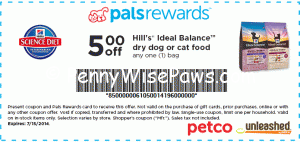 It's been forever since we had a new Petco printable store coupon!!
Today two new ones popped up on the Petco site, so let's hope they are bringing them back, especially as we have an adoption weekend coming up!
We have a
5/1 any one bag Ideal Balance dry dog or cat food exp. 7/15 
and
5/1 Ideal Balance case of wet dog or cat food exp. 7/15
The first one pairs nicely with the 5/1 manufacturer coupon flyer, found in stores previously, if you have not used up all of them for the Petsmart deal.
Both cat and dog food varieties start at 12.99 at Petco, so 2.99 after coupon stack.
Wet food cases start at $24, so $19 after store coupon