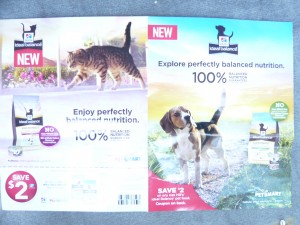 Here's another coupon flyer that currently can be found at Petsmart. It has a 2/1 ANY Hill's Ideal Balance dog or cat food!
If you are NOT one of the lucky ones, that found the 5/1 Manufacturer coupon, we mentioned a few weeks ago, this will get you a good deal too.
Not quite as good as the 5/1 Manufacturer coupon but better than nothing!
Stack with  5/1 select brands printable PETSMART store coupon and the 15% F&F coupon valid through 6/8 for a total of over $7 off, making your $9.99 bag of dog food 2.54 and cat food (12.99) $5.09, plus free bonus cans, if you can find the free cans wyb dry food tearpads.